Registration
---
Registration is now closed!
This year's meeting has many cost-saving options including the member and early-bird rates, dorm options, and meal plans. A professional member of either SEB or SoE can expect to pay about $650 for the above items*, a retired/emeritus member about $615, and a student can expect to pay about $585. Register now to take advantage of these lower-priced options.
*Above estimates are for SEB/SoE member early-bird registration, shared double dorm rooms, and the meal plan. It does not include travel expenses or additional add-on options.
Both the dorm accommodations and the meal plan are time senstive and have unique specifications, please check these pages for more information and register soon to take advantage of these cost-saving options.
Attendees that choose off-campus housing are required to pay a $28 per person cummuter rate. See the accommodation page for more information.
Please note that the non-member registration rate includes a one-year membership to the society that you select in registration. Refunds of any kind will not be available after May 18, 2023.
Regular Rates (April 16-May 18, 2023). Registration closes on May 18th - there is no option to register on-site.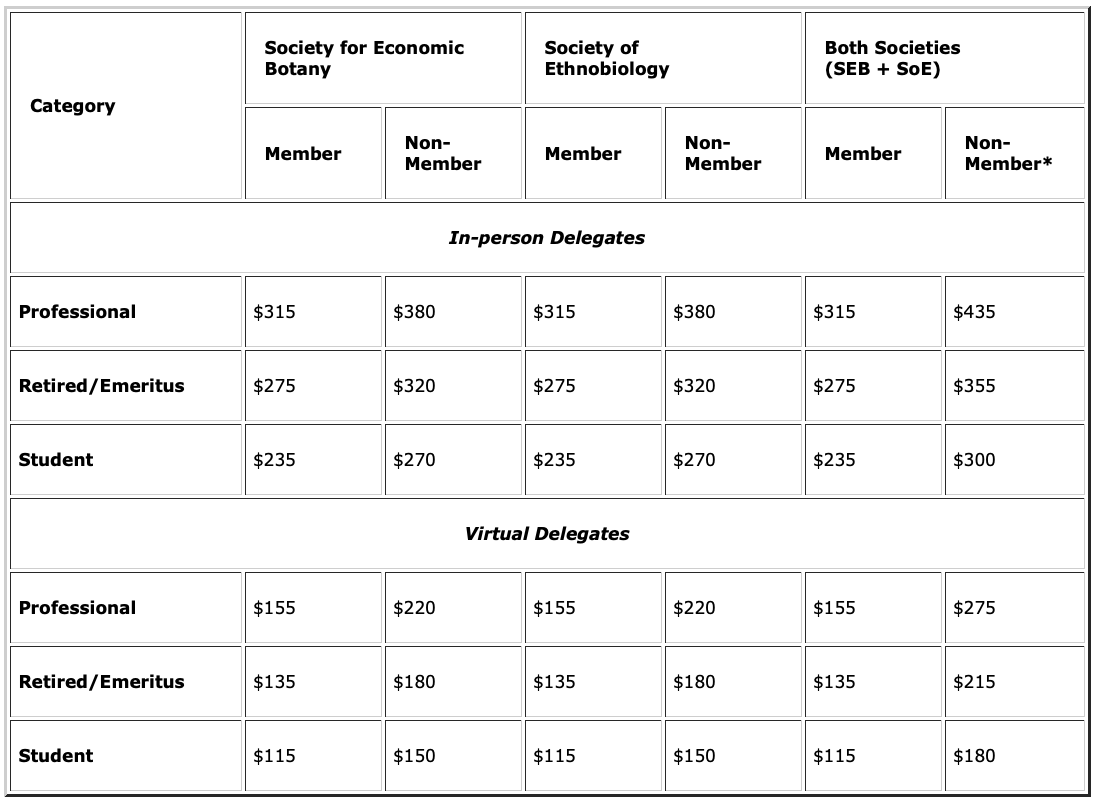 (Click the above image to open the rates in a new window)
* The non-member rate in the last column for both societies includes the cost of joining both societies. If you do not wish to join both societies, please pick a rate for just one society of your choice (SEB or SoE).
For the public!
We have reserved seats for the public to attend the opening lecture and book-signing by best-selling author of Braiding Sweetgrass, Dr. Robin Wall Kimmerer. Tickets are only for access to her lecture and book signing and does not include the reception to follow or other parts of the scientific program.
Opening Keynote Lecture and Book Signing Ticket (In-person) $30 Early Bird/ $35 Regular
Opening Keynote Lecture Ticket (Virtual) $15 Early Bird/ $20 Regular
Click here to register.
---
Reserve your very own conference t-shirt ($25 USD), only available through pre-orders on the conference website.