News
Publications
Publications: Economic Botany March 2022 Issue Now Available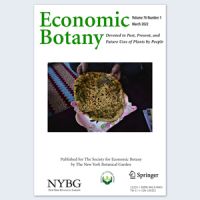 Included Articles:
- Economic Assessment of Morel (Morchella spp.) Foraging in Michigan, USA
- Homegarden Variation and Medicinal Plant Sharing among the Q'eqchi' Maya of Guatemala
- The Inextricable Link between Ecology and Taste: Traditional Plant Foraging in NW Balochistan, Pakistan
- Ethnoveterinary Practices of Medicinal Plants Used in Animal Health Management in the Dawuro Zone, Southern Ethiopia
- North American Fertility–Regulating Botanicals: a Review
- Understanding Betel Nut Use in Prehistoric Southeast Asia
- Book Reviews
Current SEB members can access Economic Botany issues and articles by clicking here and signing in with your SEB ID and Password, and then click on "SpringerLink - current issue back through Volume 1, 1947"
Forget your SEB ID or Password? Email seb@econbot.org for assistance.
More articles in category Publications