News
Meetings
Meetings: SEB 2020 Call for Workshops and Registration Info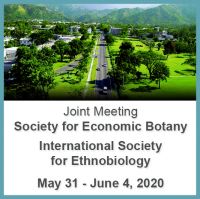 We are excited to share with you more information about the upcoming joint meeting between the Society for Economic Botany and the International Society of Ethnobiology in Mona, Jamaica!

A call for workshops has been issued and you can view the information HERE on our web site. The deadline for workshop submission is January 31, 2020. We have also posted the registration fees, which will include the opening reception on Sunday, May 31 as well as three lunches during the conference.

The organizing committee has been busy for months, making plans for the field trips, the banquet location, and working on themes for the organized sessions. We are certainly looking forward to experiencing all the biodiversity that Jamaica has to offer and tremendous presentations by our colleagues and students.





Registration is slated to open later in December and a call for abstracts will be released in January. Please mark your calendar and plan on joining as at the University of the West Indies for Out of Many, One People: Biocultural Diversity across Borders Joint Meeting of SEB/ISE.
More articles in category Meetings